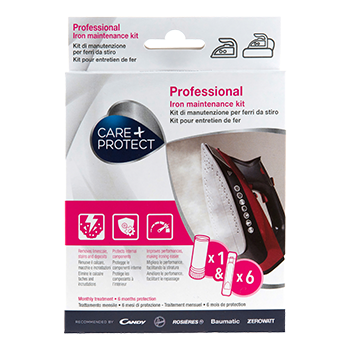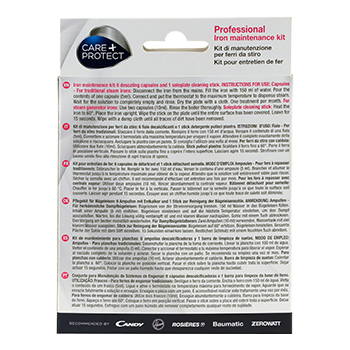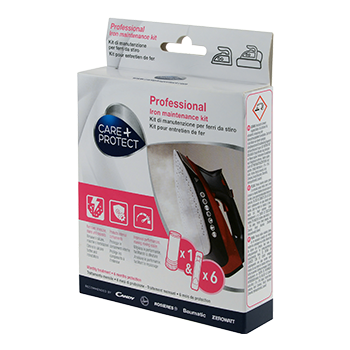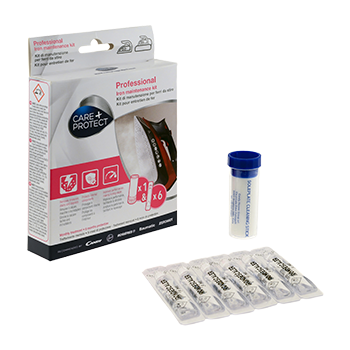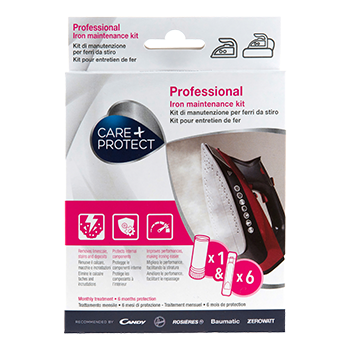 IRON MAINTENANCE KIT
Care and maintenance
Model:

CDL9606-K

Code:

35601791

EAN:

8016361935433

Format:

kit (1 stick + 6 capsules)
Description
IRON MAINTENANCE KIT
The Care+Protect Iron Maintenance Kit contains all the necessary tools to make your ironing experience much easier.
Routine maintenance of your iron will help prevent unwanted stains from appearing on items and also eliminate minerals that stop the iron from removing the wrinkles in your clothing.
Main Benefits
Includes 6 x 5ml single capsule descalers and 1 x 20g soleplate cleaning stick
Suitable for all iron brands
Monthly treatment - 6 months protection
Removes limescale, stains and deposits
Protects internal components
Improves performance, making ironing easier
Our Video
View our tips and tricks

Did you know...
To improve ironing and prevent unpleasant stains on clothes, it is important to care for your iron by using a specific descaler and cleaning the soleplate periodically.

Just for you
Easy to use – Capsules: Unplug the iron; water down 5ml of product in 150ml of water; pour the solution into the tank; connect the iron and select maximum power; empty completely with steam and rinse well; dry the plate with a cloth.
Sticks: Wipe the stick on the 60°C iron plate; leave for 15 seconds; wipe out with wet cloth.