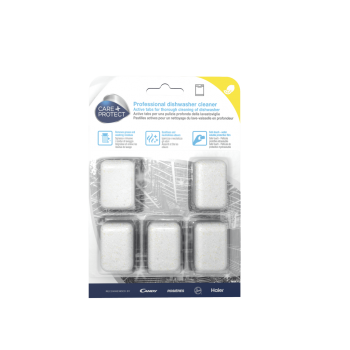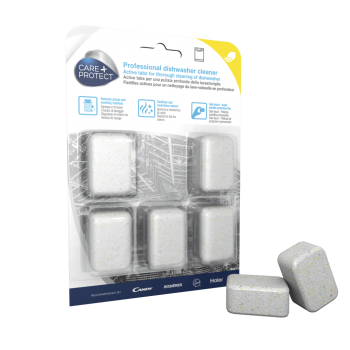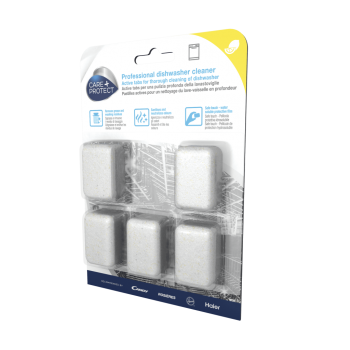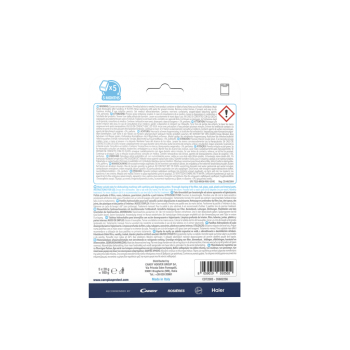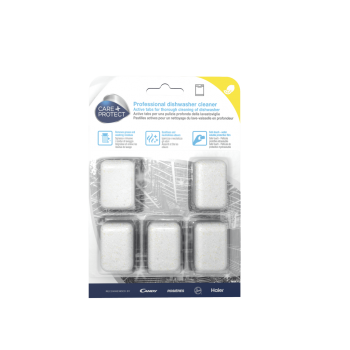 CLEANING TABS FOR DISHWASHERS
Care and maintenance
Model:

CDT2005

Code:

35602256

EAN:

8059019010502
Description
CLEANING TABS FOR DISHWASHERS
Remove grease and washing residue with the Care+Protect Cleaning Tabs for dishwashers.
This pack of Care+Protect Cleaning Tabs for Dishwashers contains 5 x 20g active tablets. The professional formula with active enzymes makes the Tabs ideal for a thorough cleaning of the filter and internal parts of your dishwasher (pipes, tub, spray arms). Remove grease and washing residues, while also sanitising and leaving behind a fresh lemon fragrance.
Main Benefits
Degreases and removes washing residues
Hygienically cleans and removes odours
Safe touch - Protective water-soluble film wrapper
Suitable for all dishwasher brands
Lemon fragrance
How To Use
Empty the dishwasher. Take a tab with dry hands and place it inside the drum.

Dishwasher
Proceed with a wash cycle at 60 degrees (no pre-wash). Monthly treatment. For more stubborn dirt it is recommended to use two tabs for the first treatment.

Did you know...
Washing residues can reduce the performance of your dishwasher, especially in and around the filter. Over time, residues of grease, detergent and food can settle, causing the growth of germs and reduced efficiency of your dishwasher. Using Cleaning Tabs monthly gives a thorough cleaning of all the internal parts of your appliance.