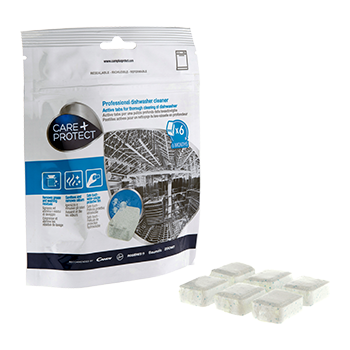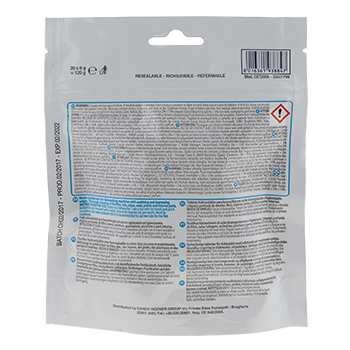 HYGIENIC CLEANER TABLETS FOR DISHWASHERS
Care and maintenance
Model:

CDT2006

Code:

35601799

EAN:

8016361938847

Format:

6 TABS x20gr
Description
HYGIENIC CLEANER TABLETS FOR DISHWASHERS
Remove sediments of grease and washing residues from your dishwasher with the Care+Protect Professional Dishwasher Cleaner.
This Care+Protect Professional Dishwasher Cleaner pack contains six 20g active-tabs that are ideal for deep cleaning the filter and all the internal parts of the dishwasher (pipes, tub, spray arms…), degrasing, sanitising and eliminating washing residues, releasing a fresh lemon fragrance. They come with resealable packs to maintain the quality of the tablets.
Main Benefits
Degreases and removes washing residues
Hygienically cleans and removes odours
Safe touch -Protective watersoluble film wrapper
Suitable for all dishwasher brands
Lime fragrance
Our Video
View our tips and tricks

Did you know...
Washing residues reduce the performance of the dishwasher, especially when in the vicinity of the filter. Over time grease, soap scum and food debris builds up, causing a breeding ground for germs and also reducing the efficiency of the dishwasher.
Monthly use of a professional hygienic cleaner provides deep cleaning of all internal parts of the appliance.