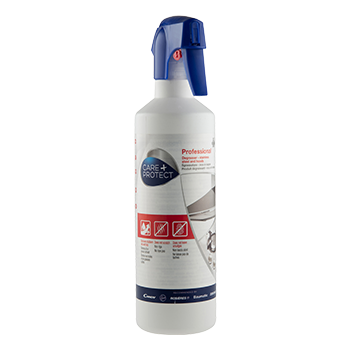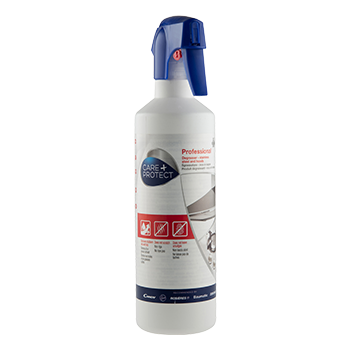 DEGREASER FOR STAINLESS STEEL SURFACES AND HOODS
Detergents and care for kitchen surfaces 
Model:

CSL3801/1

Code:

35602115

EAN:

8016361935365

Format:

500ml
Description
DEGREASER FOR STAINLESS STEEL SURFACES AND HOODS
Remove stubborn oil stains and grease from your stainless steel surfaces with the Care+Protect Professional Steel Surfaces Degreaser.
Stainless steel surfaces in the home can quickly attract fingerprints, smudges and dust build up.
This Care+Protect Professional Steel Surfaces Degreaser has been developed with a non-scratch formula to get rid of streaks, spots, hand prints, and much more. It is non-abrasive, cleaning to an impressive finish without damaging or scratching your surfaces.
Main Benefits
Universal for stainless steel surfaces
Capacity: 500ml liquid solution
Removes oil and stubborn grease
Does not scratch
Does not leave streaks
Our Video
View our tips and tricks
How To Use
Easy to use - Spray on the surface to be treated and spread it with a cloth. Do not rinse.