Why Care+Protect?
Our Mission
Offer a complete range of products for your home and appliances care & manitenance.
Our Commitment
Guarantee top quality products, always respecting the environment and with a conscious use of raw material.
Our Promise
Exclusive & regular use of Care+Protect products will extend over time your home appliances lifespan and performance.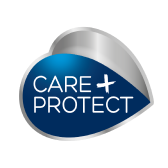 Be a master in cooking with Care+Protect
Explore our catalogues of recipes, easy to make and tasty to eat.
You will be amazed by how you can cook delicious meals using your micro-waves oven and, of course, Care+Protect accessories.
Discover more