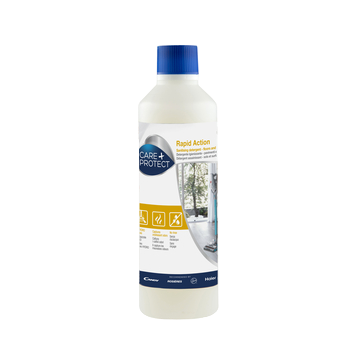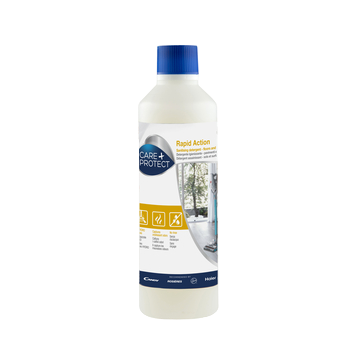 sanitising detergent – floors and surfaces
Detergents, deodorants and accessories for vacuum cleaners
Model:

CSL9401

Code:

35602350

EAN:

8059019021584

Format:

500ml
Description
sanitising detergent – floors and surfaces
The CARE + PROTECT sanitising detergent is suitable for cleaning and sanitizing floors and is also effective on washable surfaces. It is also ideal for products that vacuum and wash floors at the same time. Thanks to its special formula it contributes to the daily cleaning of floors and surfaces by removing bad smells for a quick and deep cleaning.
Main Benefits
Sanitizes floors and surfaces
Removes dirt and bad smells
Ideal for HYDRO brushes
Without rinsing
Quick and deep cleaning
How To Use
PRODUCTS THAT VACUUM AND CLEAN AT THE SAME TIME: add a sanitising detergent cap (7ml) to the water contained in the hydrobrush (30ml).

FOR SURFACES: pour the product directly onto a slightly damp cloth.

FOR FLOORS: dilute 25ml of product in 1Lt of water.

The product does not require rinsing.

Non-specific detergent for cleaning glass, steel and untreated wood.

Did you know...
The sanitising detergent can be used without rinsing for quick and deep daily cleaning of surfaces and floors.

Just for you
The sanitising detergent has been designed with a triple function: it cleans, sanitizes and captures bad smells. Fragrance-free, it does not require rinsing and is delicate on the surfaces.