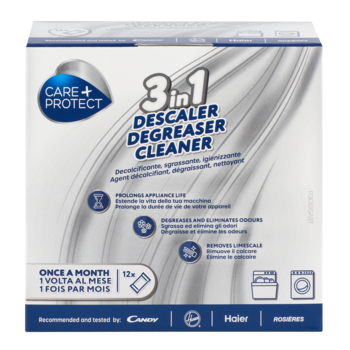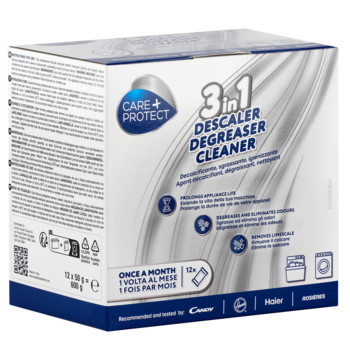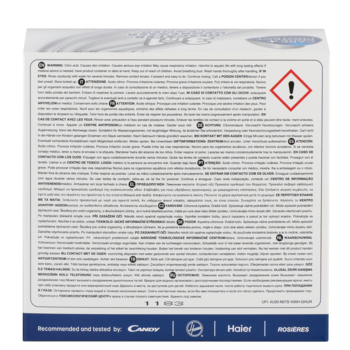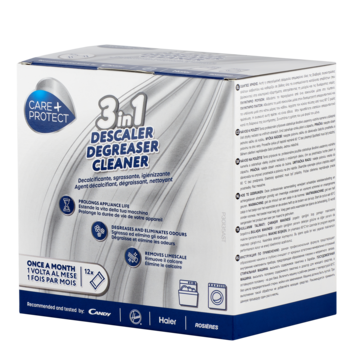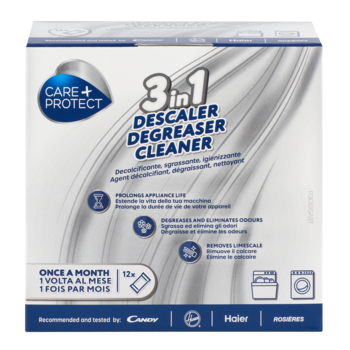 CARE + PROTECT 3 in 1 Washing Machine/Dishwasher Cleaner
Care and maintenance
Main Benefits
Deeply cleans your appliances
Prolongs the life of the appliance
Help reduce energy consumption
Suitable for ALL brands of washing machine and dishwasher
12 sachets for 12 months of protection
Description
CARE + PROTECT 3 in 1 Washing Machine/Dishwasher Cleaner
Limescale Remover, Degreaser, Hygienic Cleaner, Universal, 12 Sachets for 12 Months Supply.
Keep your washing machine and dishwasher clean and perform at its best condition with Care+Protect's 3 in 1 cleaner!
Antiscale, degreasing and sanitizing functions are now effectively combined together in a single product. This will help your appliance to be free of limescale, dirt and odours, also reducing energy consumption.
Monthly maintenance for your appliances can extend their usage life.
The pack contains 12 sachets for 12 treatment cycles.
Model:

CPP1250DW

Code:

35602755

EAN:

8059019071572

Format:

12 x50gr