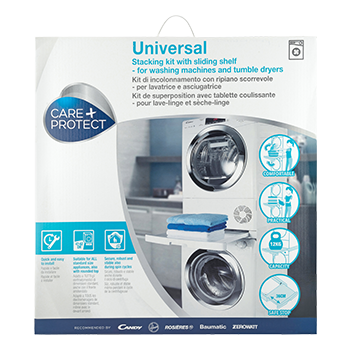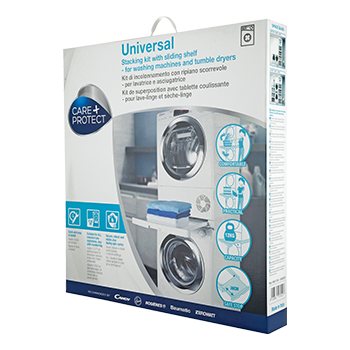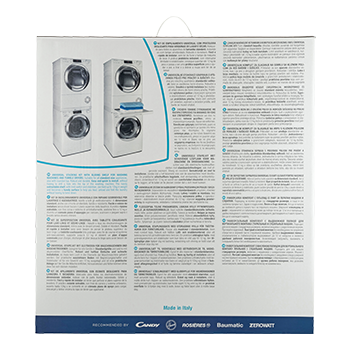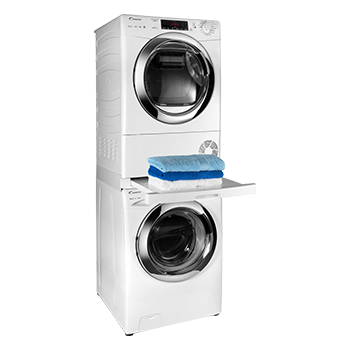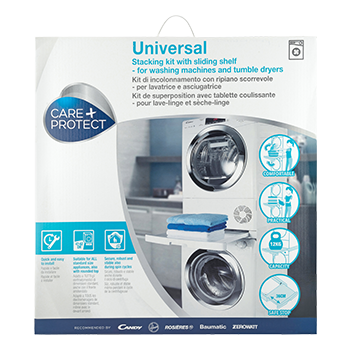 UNIVERSAL STACKING KIT WITH SLIDING SHELF
Stacking kits and accessories for dryers
Main Benefits
Quick and easy to install
Suitable for all standard-size appliances, even with rounded front
Safe, durable and stable even during spin cycles
Practical sliding shelf, supporting up to 12 Kg
Description
UNIVERSAL STACKING KIT WITH SLIDING SHELF
The universal stacking kit allows for safe and perfectly stable placement of your dryer above the washing machine, saving useful space in the home.
It features a practical sliding shelf, with safe stop and anti-tipping system that can hold up to 12 Kg to help make loading and unloading easier. The shelf is also handy for folding laundry as you empty the dryer.
Quick and easy to install, this kit requires no tools to assemble while its included securing strip and wall mount ensures a secure fitting even during spin cycles, leaving you in total security and peace of mind.
It fits most washing machines and tumble dryers easily (the kit is suitable to all standard-size appliances, from 47cm to 62cm of depth, even with rounded front).
Model:

WSK1110U

Code:

35602039

EAN:

8016361971127