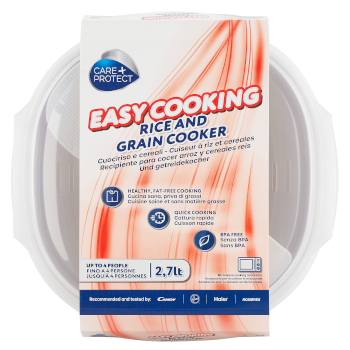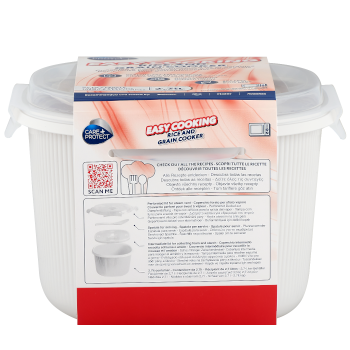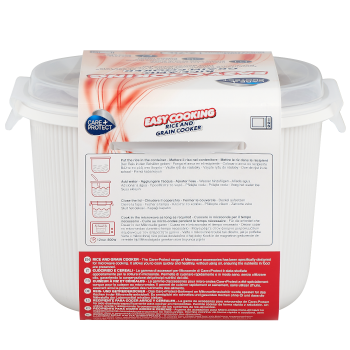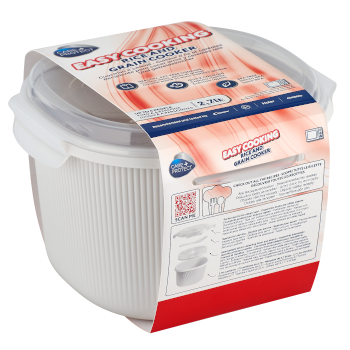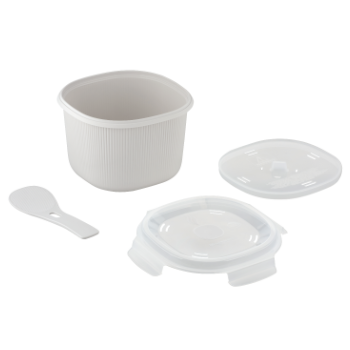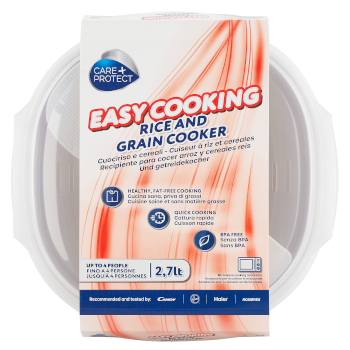 CARE + PROTECT Rice & Cereals Cooker for Microwave
Accessories
Main Benefits
Healthy cooking
Easy & Convenient
Save time & energy
Keep the nutritional properties, taste and aroma

*Check out online recipes
Description
CARE + PROTECT Rice & Cereals Cooker for Microwave
Container Ideal for Steam Cooking, Serve and Store, BPA Free, 2.7L for Upto 4 People
MAKE COOKING EASY: Using the Microwave Rice & Cereals Cooker to get rice perfectly cooked with the least effort. With this, anyone can achieve good cooking result without making any mess.
SAFE AND HEALTHY: Enbale cooking with only water, no need to add oil, butter, nearly no risk of overcooked or burnt result. Keep the nutritional properties, taste and aroma. BPA free.
SPEED AND CONVENIENCE: Shorter cooking time required compared to traditional cooking. No need to stay in the kitchen. Just set the microwave timer, then go do something else!
COME WITH: Spatula/spoon for turning the rice and serving; intermediate lid/tray for collecting foam and starch; creative online receipts to make your cooking experience fun.
ENERGY SAVING: Microwave cooking is usually faster and use less electricity, thus helping you reduce energy comsumption.
Model:

CMRCC8001

Code:

35602779

EAN:

8059019074191

Format:

2.7L
Your favourite recipes in the app
To browse your favorite recipes more easily or get tips on how best to cook them, our app will help you
Download the app
Our online store
Visit our online store, managed directly by our partner Premium Services, an expert in e-commerce & logistics services.
You can purchase safely all Care+Protect products and real-time monitor your delivery.
We ship your order at your place or wherever you prefer, within 24h/48 hours (remote areas excluded).
Buy now