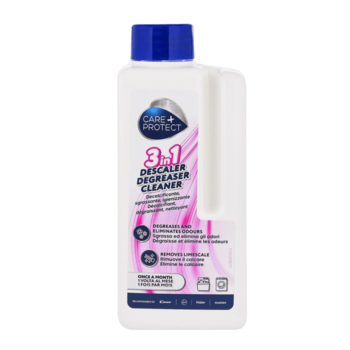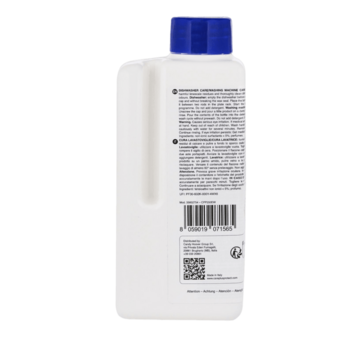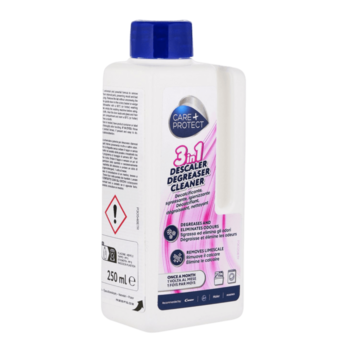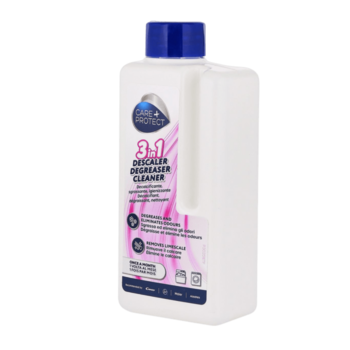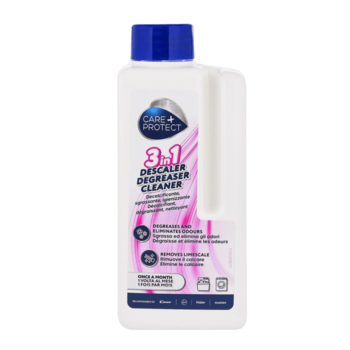 LIQUID 3 IN 1: UNIVERSAL DEGREASER, DESCALER, SANITISER FOR DISHWASHER AND WASHING MACHINE – 250ML
Care and maintenance
Main Benefits
Deeply removes limescale
Strongly degreaser and cleans
Prolong the appliance life and usage
Suitable for all washing machines and dishwasher brands
Description
CARE + PROTECT UNIVERSAL DEGREASER, DESCALER, CLEANER 3 IN 1 IS MADE FOR DISHWASHER AND WASHING MACHINE.
It helps to remove harmful limescale residues and thoroughly clean dirt from internal parts of the appliances, preventing mould and bad odours, all thanks to its universal and powerful formula.
A monthly use of the Liquid 3 in 1 prolongs the appliance life.
Model:

CPP250DW

Code:

35602754

EAN:

8059019071565

Format:

250 ml

Dishwasher:
empty the dishwasher before using. Remove the tab without unscrewing the cap and without breaking the wax seal. Place the bottle upside down in the cutlery basket or wedge it between two rods in the plate rack. Start the dishwasher with a 60°C (or hotter) washing programme.

Washing machine
use when the dishwasher is empty. Pour the contents of the bottle into the detergent compartment and start a 60 °C (or hotter) wash cycle without prewash.