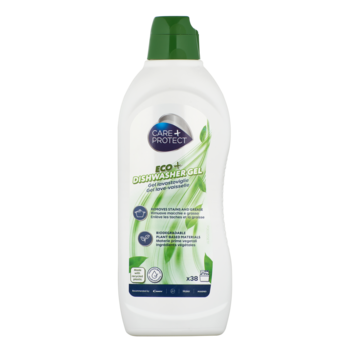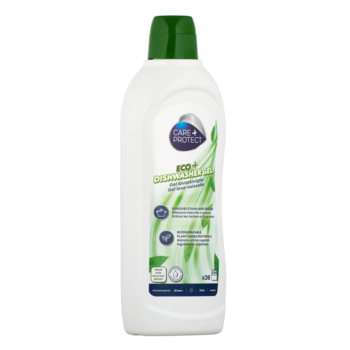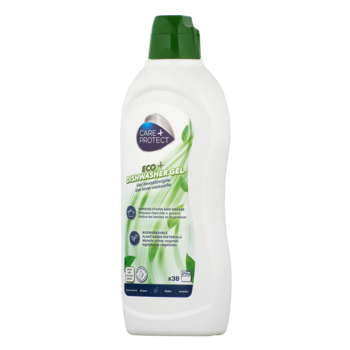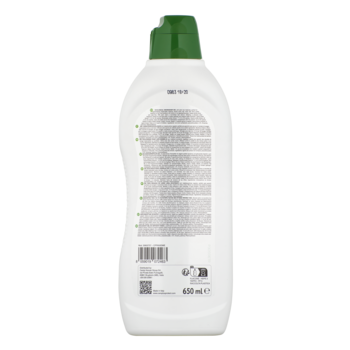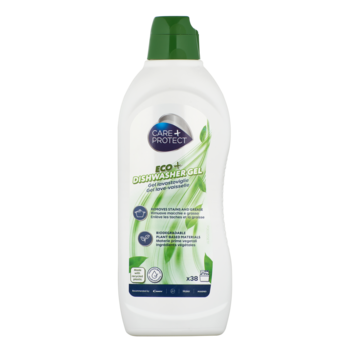 CARE + PROTECT ECO+ Dishwasher Gel
Ecological
Main Benefits
Effective on grease and oily stains
Eliminates stains and halos
Formula enriched with salt for anti-limesale
For a fresh fragrance at each wash
Description
CARE + PROTECT ECO+ Dishwasher Gel
All in One: Degreaser, Rinse Aid, Salt, Odor Neutralizer, Hypoallergenic, Strongly Degreases and Removes Dirt. Active in Short Cycles, 650ml for Upto 38 Washes
The ECO+ Dishwasher Gel provides perfect washing results every day, even with short cycles. 100% eco-friendly formula with no compremise in performance. It guarantees effective results on the most stubborn dirt thanks to its degreasing power.
It help to keep dishes shiny and stain-free. With each wash, it neutralises the bad odours, releasing a pleasant clean fragrance.
The Bottle of 650ml can cover up to 38 washes.
Performs All in One functions:
Degreaser: effective on grease and oily stains
Rinse aid: eliminates stains and halos
Salt : formula enriched with salt for anti-limesale
Odour neautraliser: for a fresh fragrance at each wash
Model:

CPP650DWE

Code:

35602757

EAN:

8059019072463

Format:

650ml