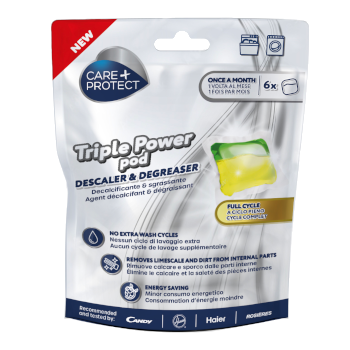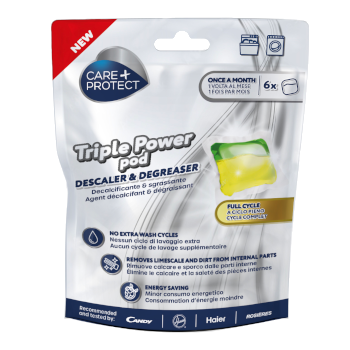 CARE + PROTECT Triple Power Pod Descaler & Degreaser for Washing Machine/Dishwasher
Care and maintenance
Main Benefits
Removes limescale, Degreases and Hygienizes
Thoroughly cleans the internal parts
Powerful liquid formula, activates even at low temperature
Gauranteed results with no residues
Safe contact with food and your clothes
6 pods for 6 months of maintanence
Description
CARE + PROTECT Triple Power Pod Descaler & Degreaser for Washing Machine/Dishwasher, Full Cycle Hygieniser, Cleaner, Limescale Remover, Powerful Liquid Formula, Quick Action, No Residues, Energy Saving Solution, 1 Pack of 6 Pods, 6 Months Protection
Thanks to CARE + PROTECT Triple Power Pods, now you can easily maintain the performance and extend the life of your washing machines and dishwashers without waiting!
Just add one pod into your machine during a normal washing cycle at any washing programs! The pod will activate itself to clean and descale simultaneously even at a low temperature. No extra cycle or action needed!
The powerful liquid formula guarantees a quick action and result with no residues, absolutely safe with your clothes and plates!
Model:

CPPPODWMDW

Code:

35602815

EAN:

8059019075884

Format:

6 pcs

Washing machine:
1. Place the Power Pod in the back/bottom of the drum before putting clothes into the washing machine
2. Add your favourite laundry detergent and softener
3. Start the desired washing machine program

Dishwasher:
1. Fill the dishwasher machine with all the dirt kitchenware as usual
2. Place the pod at the bottom / in the cutlery basket
3. Add your favourite dishwashing gel and rinse aid
4. Start the desired washing program